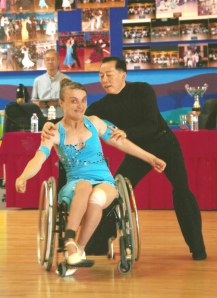 Readers may remember our earlier blog about Olesia Kornienko, the determined wheelchair ballroom dance medalist who stole our hearts. The blog that we wrote garnered more visits and more shares than almost anything else that we wrote!
MORE INSPIRING PARA-DANCER STORIES
Olesia Kornienko, who is in wheelchair due to her cerebral palsies condition, is a multiple medalist in Wheelchair Ballroom Dance in Europe and in Canada Vancouver. Dmitri (Dima) Sumchenko, her able bodied dance partner, is a multiple (44 times) gold medalist. Olesia and Dima have become national ambassadors for the sport of  Wheelchair Ballroom Dance in Canada.
The Rocky Mountain Grand Prix, a very prestigious dance competition which will be taking place in Calgary on October 24-26, 2014 provides an Excellent opportunity to fulfill their dreams. They hope to raise awareness of this beautiful sport and to encourage other people who are unable to walk to express themselves through ballroom dance.
information abut the competition can be found at http://www.dancesportgrandprix.com/
How You Can Help:
Dima is a 15 years old teenager raised by a single mom,.Olesia does not work due to difficulties of finding a job in her condition. At the moment they are taking one lesson a week with the dance teacher and get together for practice. As you can imagine they can use your help! They are looking for sponsors to go to this dance competition, and for extra lessons to make sure they look as good as healthy couples.
16 lessons = $1280, Air tickes = $1000 Hotel = $600 Entry fees and admission tickets =$300 Food = 300. Approximate total = $3480 for both of them not including parents.
see more about how you can help
Olesia , In Her Own Words
I started dancing in Poland and I won my first medal in 1999. Later I have earned 6 more medals in other countries. My dancing experience in Canada began in September 2012. Over the last year I have been training with my teacher Andy Wong in all the dance events at the Grand Ballroom and other events in BC. I take a professional approach to ballroom dance and treat it as a serious sport. For me, ballroom dancing is a blurring of the boundaries between the world of healthy people and that of people with a  disability. It's a huge collaboration with between a healthy partner and the disabled person. I feel that showing people in wheelchairs my own example can be very helpful for young people with Cerebral Palsy, and other disabilities. It's great way to rehabilitate, because it involves a movements of almost the entire body. It also improves self-awareness of gender, improvement of memory and much more. Wheelchair Dance Sport is now part of the Paralympic Summer Games. My dream is to gather a group of wheelchair dancers who will represent Canada during Paralympics in Rio de Janeiro in 2016.
Olesia about Dima:
Despite his youth, Dima made a serious committment to be my dance partner and to support me in my efforts to promote Wheelchair Ballroom Dance Sport. He devotes much of his time to our joint workouts and puts a lot of effort into this. He participated with me in EXPO ConneTra , organized by Connectra Society (here is the video of the showhttps://www.youtube.com/watch?v=VNG8OOm6Bwg&list=PLzOyThP0jtK2nkELq5_M8Wdqlv6VOc49l&index=25 ) We participated also in the event, Gathering Festival, organized by the Gathering Place Community Centre, where we did Ballroom Dance workshops for people in wheelchairs and their healthy dance partners (here are photos from the Closing ceremony of the festivalhttps://www.facebook.com/media/set/?set=a.884949971532096&type=1&l = dade786954 )
Our facebook page is https://www.facebook.com/olesiaandima  Be sure to like us on Facebook!!

We count on your support!