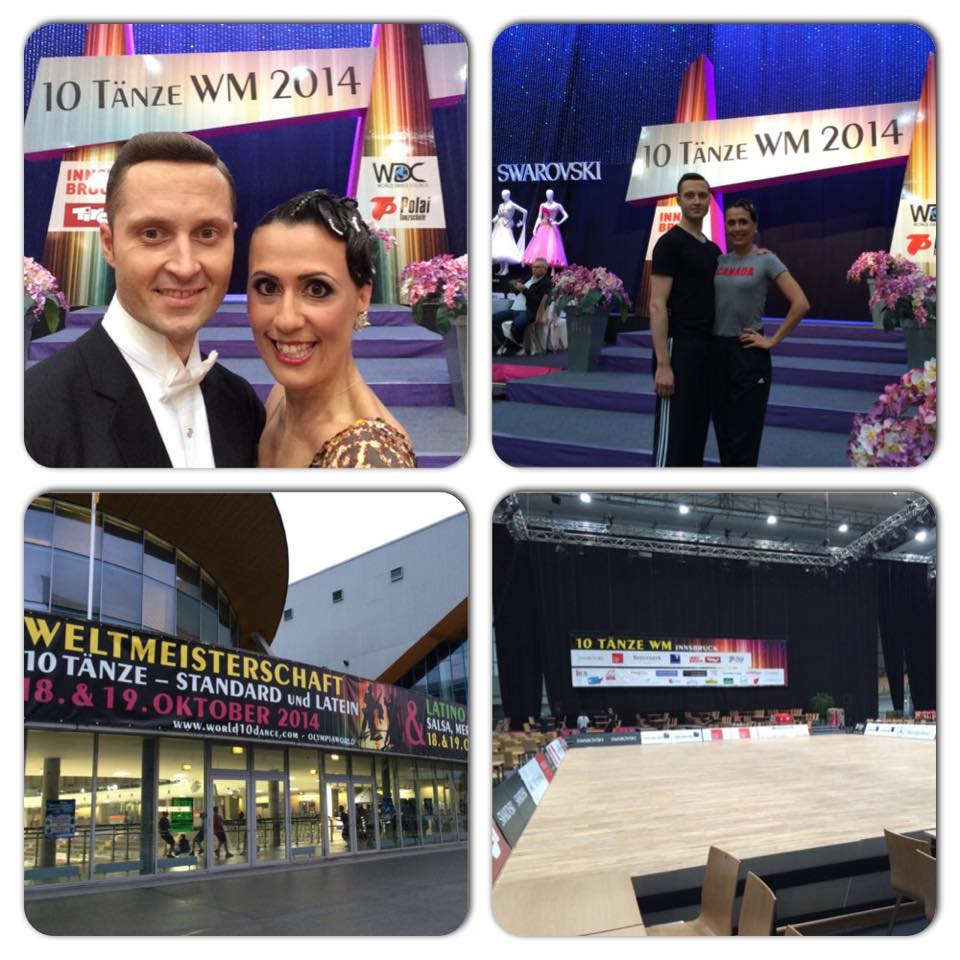 Ottawa's rising stars of ballroom dance, Oksana and Yuriy Shelkovyy,  again  represent Canada at one of the most prestigious dance competitions of the year: The World  Professional 10 Dance Championship, where couples will compete in International Latin and Standard styles. Oksana and Yuriy are the first ranked qualified couple to represent Canada in the World 10 Dance in Austria this year and the only couple which actually resides and practices in Canada!
The event, which is being held in Innsbruck, Austria October 18-19, 2014, is one of the three most prestigious professional dance championships in the world. Competing dance partners, representing over 20 different countries,will flock to this destination Austrian city to participate. Ottawa's own Yuriy and Oksana will be one such partnership.
Yuriy and Oksana are thrilled to again be representing Canada at this prestigious competition. Between Yuri's full-time job in the government sector and teaching at their busy dance studio, Dance With Us Ottawa, the couple still manages to devote several hours per day to training for the competition.
The husband and wife team will debut brand new costumes for the three-day event, which will take place at the spacious Olympiahalle, in Innsbruck, Austria.  Thousands of spectators are expected to attend to watch the world's best dancers in action.  The World Dance Council (WDC) has selected a panel of reputable adjudicators to judge the competition.  With so many world-class dancers participating, they will have a tough job to do.
On October 18-19, all our eyes will be on Yuriy and Oksana as they will dance at their second World Professional Championship representing Canada, this time as the first rated couple. Luckily, they are no strangers to the pressure that accompanies these types of events.  They have successfully competed in the most prestigious dance competitions across North America and Europe.
Among the many achievements, Oksana and Yuriy were finalists and were in the top 3 in many other recent competitions:  They were finalists at Canadance  2014 in Ottawa and Silver Medalists at the Extravaganza Montreal. They were also second at the Boston Ballroom Competition and Conference in September 2014. At the Chicago Windy City Open at the end of August , Oksana and Yuriy placed third.
The World 10 Dance Professional Championships will provide yet another opportunity for them to strut their stuff on the world stage.  Let's wish them best of luck in their dancing journey!!!!
For more information, contact:
Oksana & Yuriy Shelkovyy
 80-B, Jamie Avenue, Ottawa, ON, K2E 6T6 (near Merivale and Hunt Club)
Phone: 613-406-0066
Email: dancewithusottawa@gmail.com
Memories Of The World 10 Dance  Professional Championships 2013
REPRESENTING CANADA!! Yuriy and Oksana Shelkovyy are dancing Foxtrot at the WDC World Professional Ten Dance Championships 2013!


Related articles