STUDIO CHRISTMAS SHOWCASE AND DANCE PARTY WILL BE HELD ON DECEMBER 17th AT 6:30 PM
We are aiming for everyone to have a fantastic time and working hard on preparing an exciting event.
Doors open at 6:00 pm
Showcases and general dancing start at 6:30 pm
Tickets: $20 if purchased in advance. $25 at the door. Tickets are available for sale online and at Dance With Us Ottawa Studio
Semi formal attire
Special performances, dancing games, prizes, raffles, delicious treats, coffee and tea, special Xmas playlist and lots and lots of dancing
Adults only
Buy your tickets online or in the Studio to get the best price. Tickets at the door will be $25. Last year, all seats were sold out so we recommend you to get your tickets in advance.
You can also follow all the updates and find useful information on our Facebook Page in the Events section: https://www.facebook.com/events/651437131910645/
Phone: 613-406-0066
Address: 80-B, Jamie Avenue, Ottawa, K2E 6T6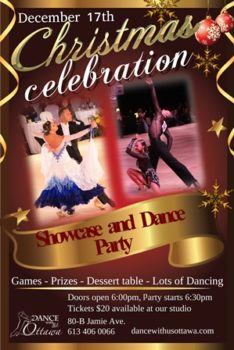 Gift Certificates Available: Looking for a great gift for Christmas, Birthday, Anniversary or Wedding? We have Gift Certificates for all our classes available in the studio. Buy a gift card and get 10% off from your next dance group session.
Winter Shoes Policy: It is really important to keep our Studio as clean as possible during the winter months. Please bring a change of shoes with you when anytime it is snowing or raining. Especially in the winter because of the salt! This will help ensure the floors stay clean throughout the day. Kindly bring a clean pair of shoes to change into.
Please also note that we have a scent free policy.
____________________________________________________________
In 2018, our Ballroom and Latin Social Dance Parties will be held, as usual, every 2nd and last Sunday of the month from 6:30PM to 10:00PM. Great evening for beginner and experienced dancers. Come to have fun, dance to the great music and get together with friends or meet new friends! $10 per person at the door. Also includes a complimentary group lesson for all levels. Our parties are open to everyone!
6:30 – 7:30 PM – Complementary dance lesson (all levels)
7:30 – 10:00 PM – Dance Party
$10 per person at the door (includes lesson and party)
$5 for first time guests
Free parking
Dance or clean change shoes are mandatory.
Mark the dates for the following dance parties and free group classes:
January 14
January 28
February 11
February 25
We have a great sound track prepared for you that includes ALL dances and styles.
On our playlist is: Cha Cha, Rumba, Samba, Jive, Waltz, Foxtrot, Argentine Tango, Viennese Waltz, Quickstep, Tango, Salsa, Merengue, Bachata, Mambo, Disco, and Swing. We will mix them up, so it's different every time. And we take requests!
Our address: Dance With Us Ottawa, 80-B Jamie Avenue, K2E 6T6, near Merivale and Hunt Club
Don't hesitate to call at 613-406-0066 or contact us if you need any information.
Please kindly note that we have a scent free policy!